"I was trying some low-light candids during a high school graduation last week." writes Joann Wilson. "It was a little frustrating because the graduates looked bored and fidgety much of the time, making it hard to get a group shot where everyone looked alive."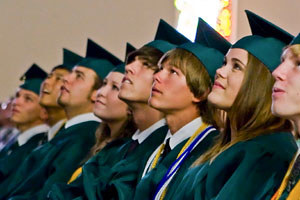 "The fidgeting was a particular problem since the low light forced me to shoot at about 1/15 sec. I was about to pack up and leave when they announced the last thing on the program: a music slideshow with pictures of the graduates through the years. Suddenly they all woke up and sat in rapt still attention for the whole 5 minute slideshow, allowing me to finally get a decent shot."
Joann used her Canon 20D with a Canon 24-70mm f/2.8L on a monopod. Settings were: ISO 1600, f/2.8, 1/15 sec., and 70mm focal length.
Photo by Joann Wilson. Click on image to zoom to larger size.
If you have a candid you'd like to share, take a look at our Submissions page, then send us your Grab Shot. We'll try to get it published for you on The Digital Story.
And you can view more images from our virtual camera club in the Member Photo Gallery.
---
-
---
Technorati Tags: candid, digital photography, grab shot, The Digital Story