Beautiful 4th of July weather that's perfect for picnicking and fun for sports. When the sun is high overhead, however, your photographs will be very contrasty. Often, what I like to do in these situations is shoot in Raw, then convert the images to B&W in post production. My eye likes gritty, contrasty monochrome images, and there's no better light for that than a high sun on a summer day.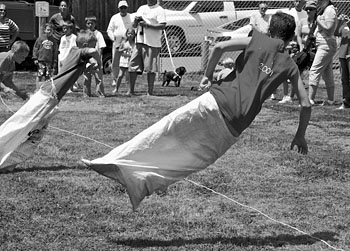 I used one of my favorite street shooting rigs, the Canon Digital Rebel T1i (500D) with the 70-200mm f/4 L zoom. This combo is light, nimble, and provides great image quality. I shot in Raw because I knew I would need all of my options available when I got to post.
Photo by Derrick Story. Canon Rebel T1i, Canon 70-200mm f/4 L zoom. ISO 200.
I processed the photos in Aperture, including the monochrome conversions. It's funny how mood influences the choices I make in post. Today, I felt like pushing the edges, so that's exactly what I did with these shots. I much prefer these to the color versions, which are nice, but just don't have the same tooth.
You can see more images from this series on the TDS Flickr site.
---
-
---