This must be the week for unusual camera announcements. First, we had the Nikon Coolpix S1000pj, a compact camera with a built-in projector so you can display your images on the wall. Now we have the Sony Party Shot DS1, a robotic mount that you place the camera in, then it uses Face Detection to scan the room, look for shots, and take them.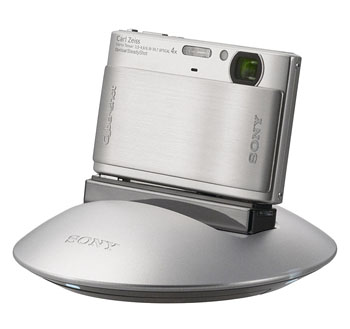 The mount pans a full 360 degrees horizontally, and it tilts up and down. When the camera (either a new TX1 and WX1 Sony compact) detects a face, it focuses, sets exposure, and grabs the shot. In theory, you can place the Party Shot in the center of the room, turn it on, and enjoy the festivities. After the last glass has been cleared away, upload the images to your computer and relive the experience all over again.
If you were a wedding photographer, imagine setting a couple of these up at the reception and letting them do their thing while you focus on your shot list. You may get some wonderful surprises, especially when curious guests eye the device and get their picture taken while doing so.
The only thing you'd have to figure out is how to lock it down. It appears that there's a security slot on the back of the device, but what about the camera itself? You'd hate for a guest to snatch your Sony while you were off elsewhere.
Pre-orders should be available now at www.sonystyle.com/retail and at selected retailers nationwide. The Party-shot camera accessory will be available for about $150 in September.
---
-
---