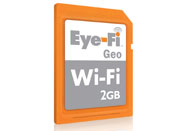 In my latest Macworld Magazine article, a review of the Eye-Fi Geo, I show the ins and outs of the $60 SDHC card that provides wireless transfer of pictures to your Mac. Using WiFi to move images from camera to computer is nice, but the real beauty of this device is that it provides easy geotagging for urban shooters. And if you use iPhoto as your picture management software, the Eye-Fi Geo will send your images directly to the application. When you view your shots for the first time on the computer, they have already been tagged with location coordinates and places information. This is about as easy as capture geotagging gets.
This workflow is for Jpeg shooters. You can have all the images sent to iPhoto, or use the Protect key on your camera to mark the images your want transferred. During my tests, it took about 12 minutes to send 40 high rez Jpegs from a Canon T1i to a MacBook. When I opened up the pictures in iPhoto, all of the geodata was in place. So even though transfer takes longer than with a USB card reader, a lot of good stuff happens as a by product of the process.
Mac shooters who want a low-cost way to experiment with capturing geodata at capture might want to take a look at the Eye-Fi Geo. It's available exclusively at the Apple Store.
More Posts on Geotagging
Selective Transfer For Older Eye-Fi Cards Too
Copy and Paste Geodata in iPhoto 8.0.2 (iPhoto '09)
Macworld Magazine Article (by me): "Geotag your photos on-the-go"
"Introduction to Geotagging" - Digital Photography Podcast 165
Testing the Eye-Fi Explore Card at Home
Geotagging a Journey with photoGPS, iPhoto, and Flickr
iPhoto '09 as Your Geotagging Tool?
First Look at Jobo photoGPS Device and Software
Update to Geotagging Workflow, Including Jobo photoGPS
Finding a Reasonable Geotagging Workflow
---
-
---
Technorati Tags: Derrick Story, digital photography, geotagging, iPhoto '09, technique, Technology, The Digital Story