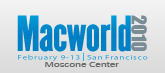 Right around the corner is my 2-day workshop at Macworld 2010 titled, Professional Photography Adventure with Aperture. The dates are Feb. 9 & 10 at Moscone Center in San Francisco. There's still time to sign up.
Because Aperture 2 has been around for a couple years now, we've had plenty of time to experiment with the application to see what it can do. I'm going to incorporate some of these discoveries into this year's workshop:
A reference library approach that allows you to point Aperture, iPhoto, Lightroom and Adobe Bridge to the same set of master images, without altering the masters in any way.
Tethered shooting with Canon DSLRs and iPhones. Will cover Nikon and Olympus too.
Custom fine art notecards using the book layout tool.
How to create the infrared effect using the Adjustments panel in Aperture 2.
And, as they say, lots more. So yes, we will cover the basics on the first day, but on the second day we'll delve more into these advanced techniques. And if Apple announces Aperture 3, we'll cover that too.
More Digital Photography at Macworld
On Wednesday night, Feb. 10, at 6:30 pm we head to the Apple Store in San Francisco for the talk, Expert Photo Tips from Real Experts. I'll be joined by digital photography legend, Stephen Johnson, with Mikkel Aaland and Ben Long. After our initial chat about the iPad and all things photography, we'll take lots of questions from the audience. This is a free event, so I hope to see you there.
On Thursday, Feb. 11 at 3pm, I head back to Moscone Center for the panel discussion, The State of the Art of Digital Photography. We did this last year, and it was a great hit. For the talk, I'll have lots of goodies on hand including the new Olympus E-PL1 digital camera. Olympus isn't showing at Macworld, so this will be your chance to get your hands on this very cool camera. I also have a few other state-of-the-art goodies to share. So make sure you attend this talk.
---
-
---