I walked outside of the MGM Grand for a little fresh air tonight, and noticed this terrific angle on "New York New York" across the street. I had my Canon PowerShot S90
in my pocket, so I decided to capture this "oh so Las Vegas" night scene. (Click on photo to enlarge.)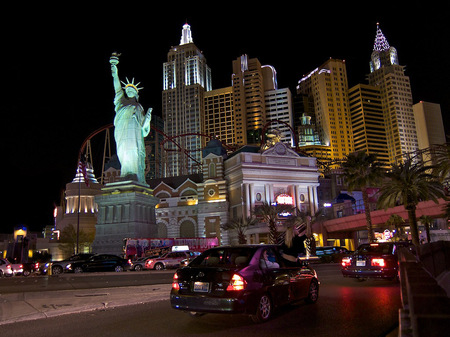 I set the ISO to 80, turned on the self-timer, and found a steady place on the railing to take the shot. After a few frames, I noticed this car to my right with a girl hanging out of the passenger window taking photos. Ah, the perfect foreground element!
I then processed the Raw file in Aperture 3, using the brush tools to lighten and darken a few specific areas. I exported this Jpeg and opened it in Photoshop CS4 to add a bit more metadata and to do the final sharpening.
"New York in Vegas" by Derrick Story. Canon S90 at 1/10 sec, f/2.0, 28mm.
---
-
---