I've been to many of the major photography shows over the last year, and WPPI is definitely at the top of the list for expo traffic, full classrooms, and retail sales. It has become the hot photo show.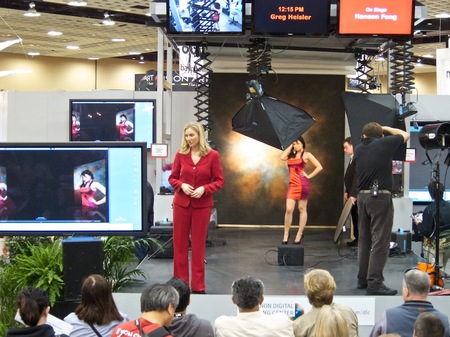 When we closed up shop today at 3pm, the expo hall was still humming with attendees who didn't seem ready to leave. There were long lines at all of the photo retailers selling on the floor, such as Midwest Photo, and everyone I talked to reported brisk activity.
I think WPPI does a great job of balancing good classroom content with an interesting trade show. Photographers just seem to like hanging out here. There's lots to see, many to connect with, and you can learn just about any thing. I remember this show in its early days. It was small, but passionate. Today it still has that great energy, but WPPI has really come of age.
Photo by Derrick Story of Hanson Fong working in the Canon booth during WPPI. Captured with a Canon S90 at ISO 800. Click on image to see larger version.
---
-
---