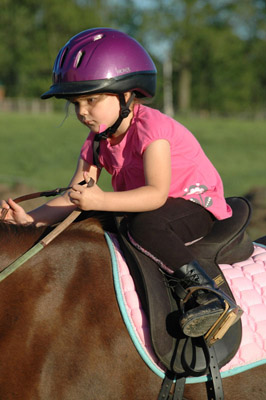 "Lilly is a 3 year old who just started riding horses," writes Fred Brundick. "The first time she came to the farm, all we heard was 'Aunt Debbie, Aunt Debbie, when can I get on a horse?'"
"She has doubled-up a couple of times with the 8 year old girl who takes lessons on Tish. But I took this picture the first time that Lilly rode Tish by herself. I like Lilly's look of concentration, the pink and purple colors against the blurry green background, and the shine in Tish's coat."
Fred used a Nikon D70s with a Nikkor 55-200mm f/4-5.6 zoom lens. He was in aperture priority mode set to f/8. ISO was 400 resulting in a 1/640th shutter speed.
Photo by Fred Brundick. Click on image for larger version.
If you have a candid you'd like to share, take a look at our Submissions page, then send us your Grab Shot. We'll try to get it published for you on The Digital Story.
And you can view more images from our virtual camera club in the Member Photo Gallery.
---
The Digital Story Podcast App is the best way to stream or download weekly TDS podcast episodes. No more syncing your iPhone or iPod Touch just to get a podcast. And there's more! Tap the Extras button for free passes and discounts and the current Grab Shot by our virtual camera club members. Each podcast episode has its own Extras button, too, that contains more goodies such as pro photo tips. And the best part is, The Digital Story Podcast App is your way to help support this show.Download it today!
---
-
---