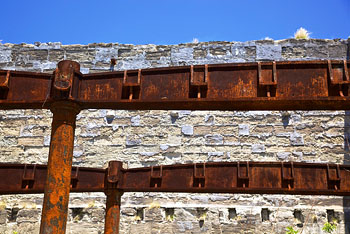 The one accessory you never want to forget when traveling to sunny, colorful locals is the polarizing filter. This item alone will separate your images from those around you.
I recently explored the streets of St. George, Bermuda, and the Royal Naval Dockyard with my Canon 5D Mark II with 24-105mm zoom and a circular polarizer. Even though it's only a 2 hour flight from the Atlantic Coast of the US, St. George feels another world away. I was able to better show the texture and color of this town using the polarizing filter on a sunny day.
Later, in class, many of my students asked why my shots looked so much different than theirs. I cited the pola might be a factor, then asked how many remembered to pack one. No one did. Don't let this happen to you!
---
Rusty beams during a stop over at the Royal Na val Dockyard in Bermuda. Captured with a Canon 5D Mark II, 24-105mm f/4 zoom with a circular polarizer. Click on image for larger version. Visit the TDS Flickr Gallery for more images from Bermuda shot this way.
---
To see the entire collection, visit the TDS Flickr Gallery.
---
-
---