Even at this early stage in its development, the iPad has become a important part of my photography workflow. As I described in The Nimble Photographer, I can travel light (less than 6 pounds), but still be able to capture and manage high quality photographs. The key for me is using the Raw+Jpeg workflow.
In my latest Macworld Magazine article, A photographer's workflow for the iPad, I explain step-by-step how I work with the basic tools on the iPad to manage this.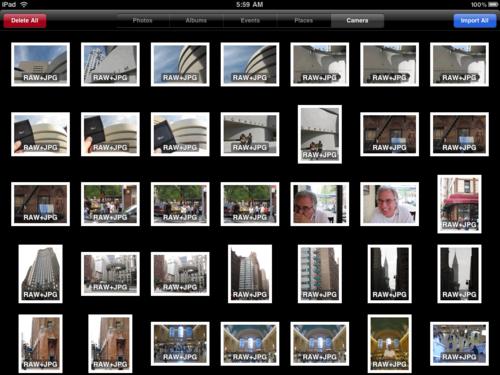 Imported Raw+Jpeg pairs on an iPad using the Camera Connection Kit. What do you do from here? Click on image to enlarge.
The trick is to shoot Raw+Jpeg at capture and upload the pairs to the iPad via the Camera Connection Kit. Then when you're back in the office, offload the Raws to your computer, and leave the Jpegs you want on the iPad. Being able to separate the pairs is important because you don't want to fill up your iPad with large files.
I use the 3G model of the iPad, so I'm able to view, manipulate, and send off photos while still in the field. This is terrific for posting to social networking sites, blogs, or even sharing images with family and friends. Yet I know I have the Raw masters for more detailed post production when I return home.
You'll notice in the follow up discussion on the A photographer's workflow for the iPad article, there are still a lot of tools that photographers want, but aren't available yet on the iPad. This is always the case with a new device. But I predict that within months we'll have more capable applications that further enhance our ability to work on the run.
More iPad Articles
How to Create and Deliver Content for the iPad
Acme Made iPad Cases for Style and Protection
Will the iPad Squish my Photos?
Bluetooth Keyboard and iPad - A Powerful Combination
Turn Your iPad into a Live Camera
Lowepro Classified 160 AW is Perfect Bag for iPad Toting Photographers
Coolest iPad Apps for Photogs? Keynote and CameraBag
"iPad for Photographers" - Digital Photography Podcast 219
---
-
---