Munich, Germany -- They call them "beer tents." But they are actually huge structures that hold thousands of beer drinking customers. In the center is an elevated bandstand that fuels the party, sometimes to a fevered pitch.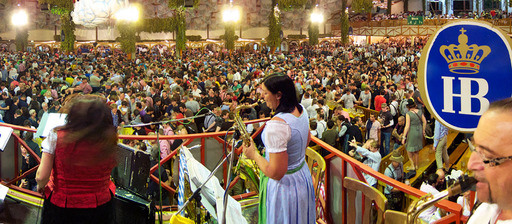 View in the HB tent from the elevated bandstand during Oktoberfest. Click on image for larger version.
I was already in a daze when I arrived on Sunday evening. Having left San Francisco early Saturday morning and flown to Munich by way of Philadelphia, I hadn't slept for over 24 hours as I wandered into the HB beer tent. I had never seen so many people drinking at once. Ever.
My friend, Oliver, who lives and works in Munich, knew the manager. When we said hello, he asked if I wanted a better view. "Of course!" I said. He then led us though locked doors to stairs that took us up to the bandstand. There we were. On top of the world looking down at thousands or party-goers, immersed in the band and Oktoberfest itself.
I knew my time there would be short. I began shooting with the Canon PowerShot S90 I had in my pocket. I remembered to record a string of frames that I hoped I could stitch together for a panorama. Here's the result. A view of Oktoberfest that very few ever see. Minutes later I was waved off the bandstand by the conductor. He had had enough of me. But I had my shots, and one heck of a view that I will never forget.
---