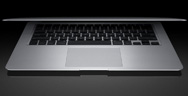 In this week's podcast I talk about using a "built to order" MacBook Air for running Aperture, Lightroom, iPhoto, and Photoshop. And given the dramatic savings in size and weight with the new Air, I didn't feel that I was compromising too much on performance.
Now we have the numbers to go along with my field experiences. Macworld Magazine has released their 2010 MacBook Air: ultimate-edition lab tests. And as I suspected, there is a performance boost in the areas that we care about between the stock models and the built to order (BTO) Airs:
"The 13-inch MacBook Air BTO configuration was 10 percent faster than its stock configuration. Individual application highlights include Aperture and our multitasking tests that were both 15 percent faster, and iPhoto was 14 percent faster."
You also get to see how the new Air compares to the 15" MacBook Pro 2.4GHz Core i5 (Mid 2010) model -- a laptop that many consider the gold standard for photographers on the go.
---