We started conducting photography workshops in 2010, but last week we had our first Aperture Intensive Workshop at TDS Headquarters in Santa Rosa, CA. The next Aperture event is scheduled for May 21, 2011.
I can sum up the event (from my perspective) in one sentence: "It was a blast!"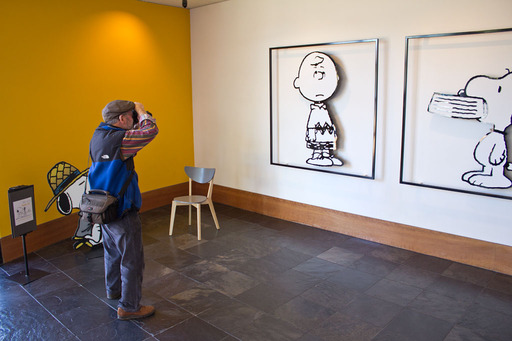 TDS photographer, Ed Shields working at Schulz Museum during the Winter TDS Aperture Workshop. After all, we needed some new source material to work with.
The difference, as one attendee put it (Ed Shields, pictured above), was that he didn't want someone just telling him about Aperture, instead, he wanted to have a discussion about technique while he learned more about the program. And I think this is a big difference between this workshop and other events that I do. It's a conversation as well as teaching.
Because the groups are so small (limited to 8), we have time over the two days to really talk about different approaches, share ideas, and explore ways to customize the workflow to each attendee's particular needs. The TDS studio is very comfortable, as any visitor will attest, and we can settle in and get our work done. It's like graduate school for software.
If you're interested in attending the next event that begins on May 21, 2011 in Santa Rosa, CA, just drop me a line. The tuition is $495 per person for the two days, and that includes lunches and goodies.
---