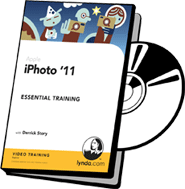 There are now two ways to learn and have more fun with iPhoto '11: my iPhoto '11 Essential Training ONLINE at Lynda.com, and the new iPhoto '11 Essential Training DVD that you can purchase from the Lynda.com Store for $49.95 US.
Either way, you'll have at your fingertips more than 4 hours of tips, techniques, and pure, unadulterated iPhoto pleasure. I show you how to organize, edit, share, and do amazing things with your digital camera pictures. That means that you can finally take control of every image you capture.
You can see a video introduction to this title here. Oh, and one more thing: I'll have a handful of these DVDs to give away at my upcoming talks at Macworld 2011, Jan. 26-29 in San Francisco, CA.
---