By using B&W in a photo, you can help focus the viewer's eye to a particular area of the composition. In this shot for example, I like how the basketball player is flying above the rim. It's amazing really. But in the full color version, the colorful crowd was distracting, making it hard to isolate the player with the ball. I like the expressions in the crowd, but I want the viewer to look at those after focusing on the main subject.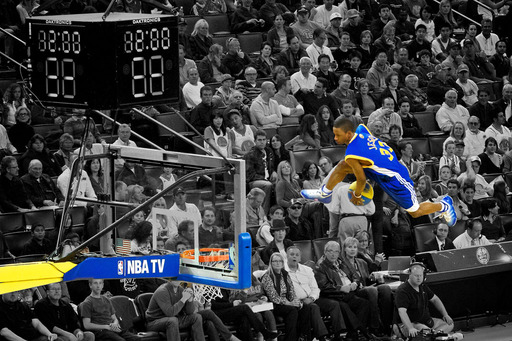 After bouncing off a trampoline during the halftime show at Oracle Arena, this athlete soars high into the air then dunks the ball on his way down. Click on image for larger version.
To help improve things, I converted the entire image to B&W in Aperture 3, then I used an adjustment brush to restore the color to just the player. To do this, go to the gear menu in the B&W brick, and choose, "Brush B&W away." It's very easy to do.
You can also create this effect in Photoshop, but the thing I like about Aperture 3 is that I don't have to build a mask. The application does that for me. All I have to do is paint and I get the effect I want.
More Aperture Tips and Techniques
My next Aperture Workshop is May 23, 2011 in Santa Rosa, CA. write me if you're interested in attending.
To learn more about Aperture 3, check out my Aperture 3 Essential Training on Lynda.com. Also, take a look at our Aperture 3 Learning Center. Tons of free content about how to get the most out of Aperture.
---