Over the course of an event, such as WPPI 2011 in Las Vegas, I notice little adjustments along the way. Here's an example that made me smile.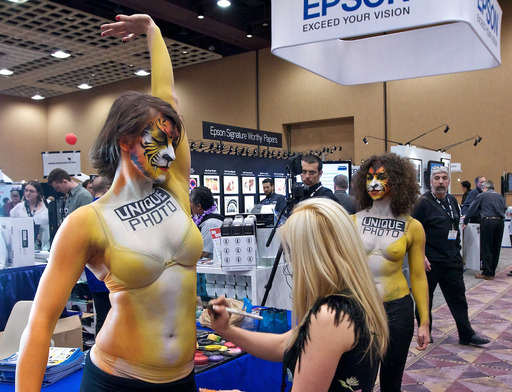 On Day 3 at WPPI, the body painters were wearing undergarments. Click on image for larger size.
Earlier in the show, when I walked by the Unique Photo booth, they were body painting models, but with no undergarments on top. This has been a popular attention grabber at Vegas photo shows in the past. Aside from the attractive models, the artists are quite good. It's amazing at how fast they work, and how effective the results are.
Then, on Wednesday, I passed by the booth again on my way to see Brian Smith present at the Sony booth, and I noticed that the models were now sporting bras beneath the body paint. Looks like, even in Vegas, you have to cover up these days.
---