The just announced Olympus SZ-10 is a compact featuring a 18x super telephoto 28-504mm lens, 3" 460K-dot LCD monitor, 720p HD video recording, 3D photo mode... and face detection for cats and dogs.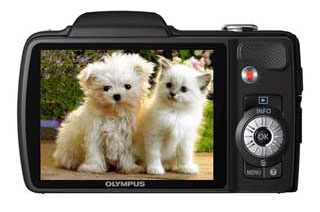 That's right, in there are two scene modes dedicated to cats and dogs, so when your favorite pet turns toward the camera, the SZ-10 locks-in focus and exposure for their adorable faces. "Say kibble!"
The Olympus SZ-10 should be available in April 2011 for $249.
---