They might not be the prettiest bird you've ever seen, but the Chachalaca in Southern Texas make up for it in personality.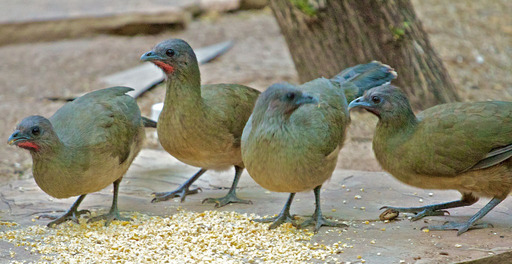 Chachalaca feeding after chasing off a rabbit. Click on image for larger version.
They are fairly big, about 22" in length. I watched one chase-off a Cottontail rabbit this afternoon at the Mazatlan World Birding Center in McAllen, Texas. You can't miss their call once you've heard it: cha cha lac, cha cha lac! And it's so loud that you can't hardly hear anything else.
After just two days in the Rio Grande area, I can tell you already, if you're in to birding, this is an exciting place. In addition to the group of the facilities that comprise the World Birding Center (think of it as the Smithsonian of feathered creatures), there are also private ranches that have converted to conservatories for local habitats. One example is the Santa Clara Ranch that features 300 acres preserved Southern Texas landscape, photo blinds, ponds, and feeders where photographers can capture a variety of birds and wildlife. They even have bunk houses that you can rent for extended stays.
Since about 90 percent of the land in Texas is privately owned, this is a positive trend seeing ranch owners becoming conservationists, and making a living while doing so. If you love wildlife photography, it would be worth your time to investigate the opportunites in Southern Texas.
---