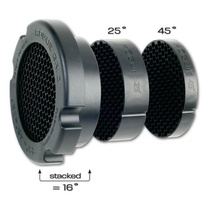 One of the most difficult things to do with off-camera flash is to put the light exactly where you want it, and nowhere else. This task just got a bit easier with the new Rogue 3-in-1 Honeycomb Grid ($49). Like the already popular FlashBenders, the Rogue Grid fits on just about any flash, and looks good in the process. (Guts of the Grid shown here. The kit comes with a very stylish nylon mount and pouch to hold it all.)
There are two honeycomb discs: 25 and 45 degrees. You can use them individually, or put them together to create a 16 degree pattern. I played with the discs today, and was quite pleased at how much control I had over the output.
The entire kit only weighs 3.5 ounces, and it fits easily in most camera bags. Along with a coupe FlashBenders, you suddenly have pro studio power in a very lightweight kit. I'm working on some test shots that I'll post here. Stay tuned.
---