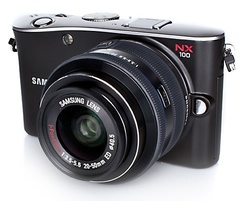 In my Macworld review of the Samsung NX 100 ILC camera, I say that it's an innovative camera, but not always a practical one. Its large APS-C sensor in a relatively compact body is alluring. But lack of lens options and no pop-up flash put it behind the competition from Sony, Olympus, and Panasonic.
So here are my Pros and Cons for the NX100:
Pros
iFunction Ring handy for quick settings
"Smart" exposure mode is fun and relatively useful
Great image quality from ISO 100-400; good quality up to1600
Large APS-C sensor in a slim camera body
Clear menu system that's generally easy to navigate
Competitive pricing for a CILC
Cons
No pop-up flash
Slippery grip
Noisy lens focusing
Lacks built-in IS with kit lens
Effective 30mm-75mm zoom range of kit lens not wide enough
Lacks dedicated video recording button
The bottom line is, I don't recommend the Samsung NX 100, considering that I like the micro four/thirds options from Olympus and Panasonic better, not to mention the pretty nice Sony NEX series.
---