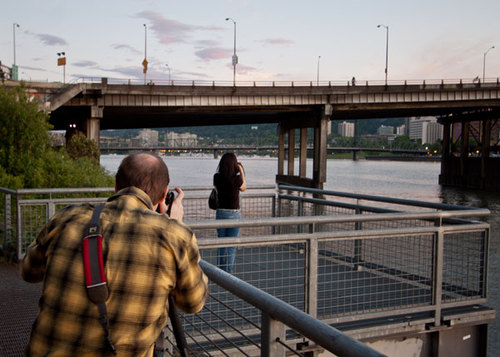 "As you advised in one of the January podcasts, I've started a photo group with some friends who share my passion for photography," writes Michael DeBuhr. "We get together on the last weekend of each month to shoot. Sometime we pick specific styles or subjects (for August we worked on macro), but mostly it's just for fun and an excuse to get out and take some pictures and chat about cameras. Afterwords we post our best shots on Flickr for the rest of the group to see and offer suggestions to improve."
"In this picture, my friend Dave was taking a picture of his wife taking a picture of the bridge, which I found amusing so I took one of him."
Photo by Michael DeBuhr.
This is our 217th Grab Shot! Wow. If you want to review the collection that began back in 2006, go to our Grab Shots page.
If you have a candid you'd like to share, take a look at our Submissions page, then send us your Grab Shot. We'll try to get it published for you on The Digital Story.
And you can view more images from our virtual camera club in the Member Photo Gallery.
---
The Digital Story Podcast App is the best way to stream or download weekly TDS podcast episodes. No more syncing your iPhone, iPod Touch, iPad, or even your Android phone just to get a podcast. And the best part is, The Digital Story Podcast App is your way to help support this show. Download it today!
---