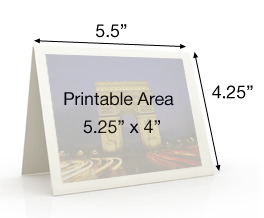 Want to say "Thank You" to that office coworker who went the extra mile, school volunteer who helped your kids, or hair cutter who made you look spectacular? Hand them a personalized photo card that you designed and produced yourself.
One size that I think is particularly attractive is the 5.5" x 4.25" A2 card produced by Red River Paper. There are six surfaces available in this size: 1 glossy, 3 mattes, and 2 specialty. Red River also offers plenty of help so you can set up your inkjet printer to produce these mailable works of art. For the finishing touch, put your cards in envelopes or clear top boxes.
And remember, the holiday season is right around the corner. Choose a handful of your favorite photographs and print a stack of cards to have on hand. Not only will the recipients be impressed with your artistic prowess, many will be flattered that you've shared your work with them.
---
Red River Paper -- The $7.99 Sample Kit is back! And with free shipping.