Apple released Digital Camera RAW Compatibility Update 3.9 that provides support for 11 new cameras, including the Canon S100, Nikon 1, Sony NEX 5N, and the new Olympus PENs. It's available via Software Update on your Mac.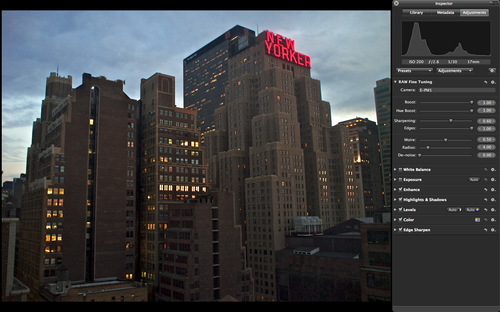 New Yorker hotel shot with an Olympus E-PM3 (Mini) in Raw and processed in Aperture 3. Click on image for larger size. Photo by Derrick Story.
This means that Raw files from the following cameras can now be processed in Aperture 3, iPhoto 9, and Preview for Mac OS X Lion.
Canon PowerShot S100
Nikon 1 J1
Nikon 1 V1
Nikon COOLPIX P7100
Olympus PEN E-PL1s
Olympus PEN E-PL3
Olympus PEN E-PM1
Panasonic LUMIX DMC-FZ150
Sony Alpha NEX-5N
Sony Alpha SLT-A65
Sony Alpha SLT-A77
I've been shooting Raw files with my Olympus PEN Mini, so I now can convert those images from this in Aperture: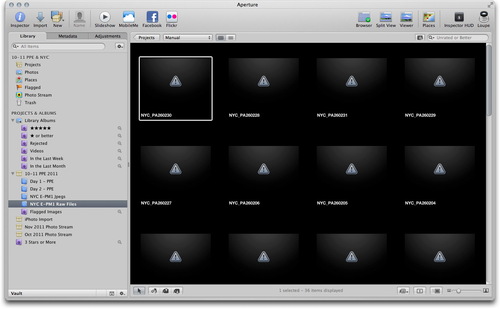 To fully processed images that look like this. All I have to do is open the Adjustments tab, and click on the thumbnail. Aperture will automatically process the Raw file for you, once you have the update installed.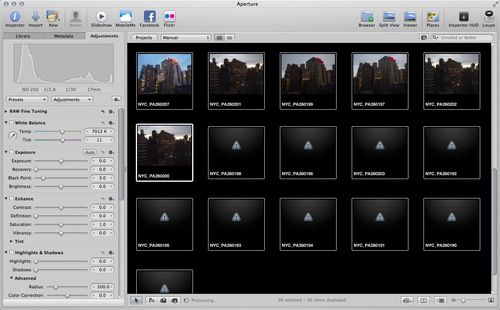 The workflow that I recommend for photographers who buy new cameras that are not supported yet in Aperture, is to shoot Raw+Jpeg in the beginning. Upload the Raws and Jpegs separately in Aperture and keep the in separate Albums, as I've done here. (Check the Library pane in the middle illustration to see the set up.) You can use the Jpegs immediately. Once the Raw update is available, you can then process the Raw files and switch over to them.
I've taken many good shots with the E-PM1 prior to the Raw update. If I didn't use this technique, I'd have only Jpegs from those weeks of shooting. Now I have both.
More Aperture Tips and Techniques
To learn more about Aperture 3, check out my Aperture 3 Essential Training on Lynda.com. Also, take a look at our Aperture 3 Learning Center. Tons of free content about how to get the most out of Aperture.
---
The Digital Story on Facebook -- discussion, outstanding images from the TDS community, and inside information. Join our celebration of great photography!
---