Motrr Galileo is raising money through Kickstarter, and it looks to be a promising device. It's an iOS-controlled robotic iPhone platform with infinite spherical rotation capability. Just swipe your finger on the screen of your iPad or other iOS device and Galileo reacts, orienting your iPhone or iPod Touch accordingly.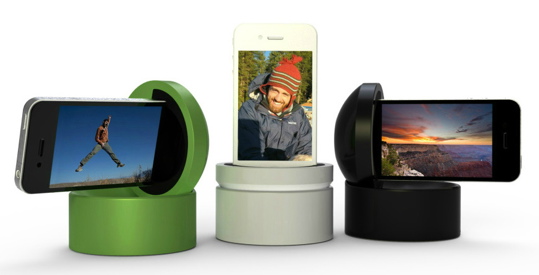 The applications for iPhone photographers are intriguing. Being able to remotely reposition the iPhone (capable of infinite 360 degrees pan-and-tilt at speeds up to 200 degrees per second in any orientation) during recording or sequence photography opens up a new dimension of imaging possibilities.
For as little as $85, you can become a part of the Kickstarter program for the Galileo, and be one of the first to use it when released to market. To find out more about the project, visit Motrr Galileo Kickstarter page. Personally, I'm signing up for the $95 pledge that will get me a limited edition Galileo in Kickstarter green. (Keep in mind there's always some risk with Kickstarter programs.)
---
The Digital Story on Facebook -- discussion, outstanding images from the TDS community, and inside information. Join our celebration of great photography!
---