Do you ever have the feeling that your Aperture library isn't feeling quite right? For those Alka Seltzer situations, try running the Aperture Library First Aid tool.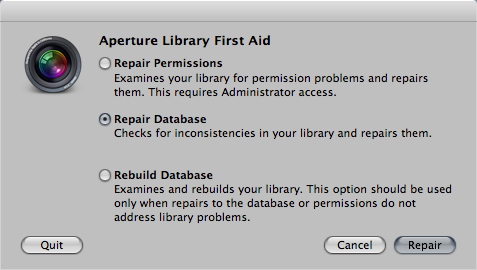 Just 3 easy steps to potential relief:
Quit Aperture.
Hold down the Option and Command keys while relaunching the application.
Choose "Repair Database."
This handy tool is built right in to the app. And it just might provide the relief you need for that upset database.
More Aperture Tips and Techniques
To learn more about Aperture 3, check out my Aperture 3 Essential Training on Lynda.com. Also, take a look at our Aperture 3 Learning Center. Tons of free content about how to get the most out of Aperture.
My next open Aperture Workshop is scheduled for Nov. 2012, in Santa Rosa, CA. You can get on the pre-registration list, plus learn about all the other photography workshops offered this season by visiting the TDS Workshops page.
---
The Digital Story on Facebook -- discussion, outstanding images from the TDS community, and inside information. Join our celebration of great photography!
---