For my upcoming Close Up Photography Workshop, I needed a ring flash that would work with each student's lighting gear. After some research, I bought the Orbis Ring Flash with Bracket. It looks like I made a good choice.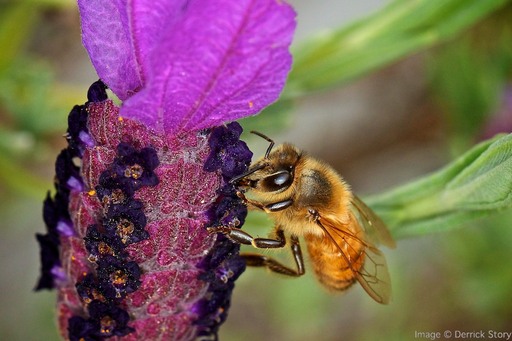 Bee on lavender captured with a handheld Canon 60D, 100mm f/2.8 L macro, and the Orbis Ring Flash.
The Orbis slips over the head of standard hot shoe flashes. I'm testing it with a Canon 580 EX. (You'll need a dedicated flash cord too, so if you don't have one, add that to the budget.) I purchased the "system" kit that includes the ring flash and bracket directly from Orbis for $249. It's not cheap, but if you compare it to other dedicated ring flash systems, it's less expensive than most.
Once everything is put together, it's a fairly bulky rig. But I found it surprisingly easy to handle. I used my left hand to hold the middle of the bracket while pressing the shutter release with my right. I felt that it was easier to steady the camera with the Orbis bracket than with just the camera and lens alone.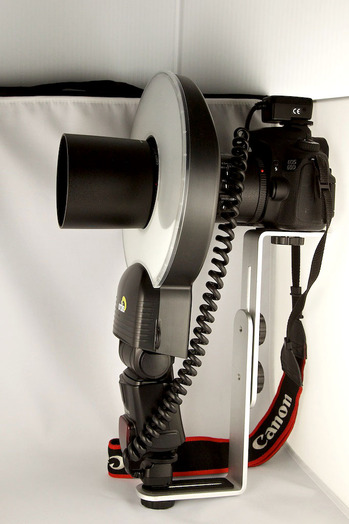 The bracket allows for adjustment of both flash and camera. So you can configure the rig to your particular photo gear. After a day's use, I consider the bracket a necessity. The Orbis would be unwieldy to use without it.
Thanks to the dedicated flash cord, you have TTL flash metering that makes exposure a snap. I used flash exposure compensation for some of my shots. But for the most part, I just let the camera control the flash while I concentrated on my subject.
The Orbis feels well made, and it should last a good long time. Keep the sturdy cardboard box for storage when the ring flash is not in use.
Even though I purchased the Orbis for the workshop, I know I'm going to enjoy using it for portraits and macro work for years to come. I give it a thumbs up.
---
The Digital Story on Facebook -- discussion, outstanding images from the TDS community, and inside information. Join our celebration of great photography!
---