The Golden State Warriors have some of the most entertaining acts during timeouts and halftime. But the best was Saturday night when Ronak Desai, a season ticket holder from Dublin, CA, drained a half court shot to earn himself $10,000.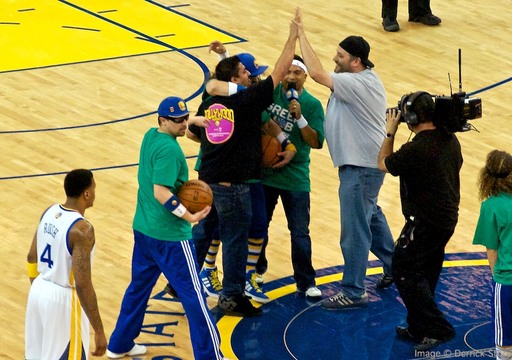 Ronak Desai in the black T-shirt celebrating after draining a half court shot for $10 K.
Ronak actually had three shots that evening. The first, from the free throw line for $500, which he missed. The second, from the 3-point line for $2,000, which he made. And the finale, from half court for $10K. As you can see from the official Warriors video, he hit nothing but net. It was clean.
I captured my shot of his celebration with an Olympus PEN E-PM1
and the Olympus 40-150mm zoom
that barely got by the bag inspectors because it is right at the 3" long limit.
Overall, a great night of action and entertainment. I've posted more shots from the game on my TDS Flickr page.
---
The Digital Story on Facebook -- discussion, outstanding images from the TDS community, and inside information. Join our celebration of great photography!
---