I spent Monday night inside the Hofbrau tent at Oktoberfest in Munich. The capacity of this facility is over 3,000 people. During the 16 days of the festival, they will serve more than 500,000 1-liter beers... just in that tent.
The scene from the balcony in the Hofbrau tent. Photos by Derrick Story.
Speaking of beer, It's amazing how much more you can drink there. It's stronger, specially brewed for Oktoberfest. But it's also fresh because it's not transported. Hofbrau makes it there, and there it is consumed.

"More Beer Please!" The women who bring the beer are absolutely amazing.
The festival itself is huge. There are a total of 34 beer tents, 9 of which are very large. It takes 4 months to build the Oktoberfest village and 2 months to take it down. This happens every year.
In this shot that I took from the air, you can see how the festival dominates the Munich landscape.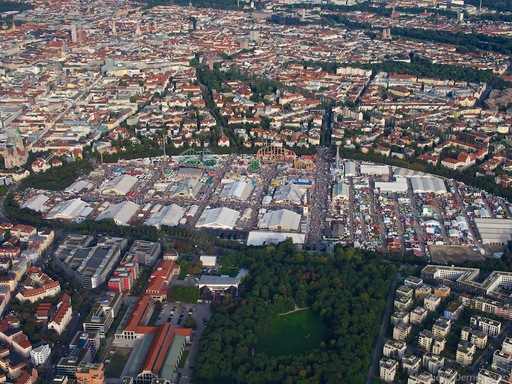 Oktoberfest from the air.
Inside the tents, music fills the air from live bands. Thousands of chickens and giant pretzels are served to help soak up the beer. And people truly have a good time. Yes, it's noisy, and there's lots of bumping. It's a beer drinking festival. And it's a blast.
I talk more about my Oktoberfest experience in this week's TDS Podcast.
---