Do you have a few rolls of 35mm film in the freezer that you'd love to do something fun with? Take a look at the Spinner 360 degrees by the creative folks at Lomography.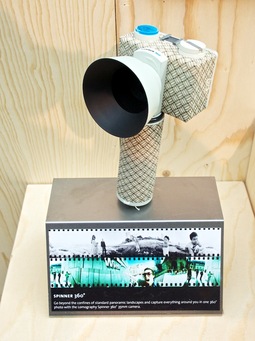 All you do is load up the camera with film, find an interesting subject, pull the cord, and the camera spins, filming as it moves. It records everything around you.
Specs include: 25mm fixed focus lens, two aperture settings (f/8, f/16), 3 exposure settings (1/125 - 1/250, manual slow), and a battery-free, rubber band drive. You can get your hands on one for less than $100.
Then all you have to do is develop the film, have it scanned, and share with friends. You might want to take a look at the sample galleries to get those creative juices flowing.
---
Live Photokina Coverage
I'm on the floor at Photokina, in Cologne, Germany. You can follow via Twitter and Instagram. Wrap-ups will be published here on The Digital Story.