The Lowepro Passport Sling II has been my daily companion for the last two weeks in Germany. Each day, before I leave the hotel, I pack it with selected camera gear, personal items, and even a light jacket. By the time evening arrives, my back and shoulders still feel as fresh as they did when I left.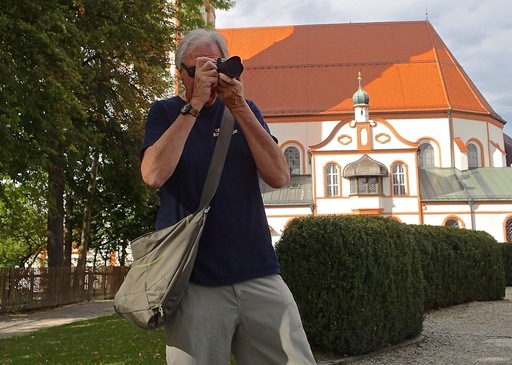 Working out of the Passport Sling at Herzlich, Germany.
The key to success is not to carry everything I own all of the time. I use a Digital Video Fastpack 250 AW as my "A to B" bag. It contains a 15" MBP Retina Display, an iPad, my camera gear for the trip, and extra hard drives. It fits under the seat of the plane, so I never have to worry about checking it. The Fastpack is an excellent bag for getting me where I need to go.
The Passport Sling goes in my suitcase. Because it has a removable camera box, it's easy to collapse and stow. Once I get to my destination, I fill it with the contents I need for the day. The extra gear stays locked up in my room.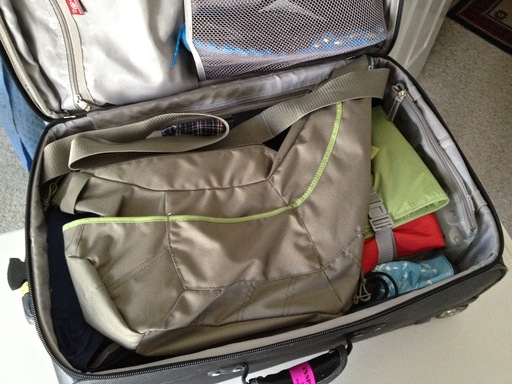 I can flatten the bag so it takes up very little depth in my suitcase.
I can configure the Passport Sling to hold a medium sized DSLR or my Compact System Camera kit. For this trip, I was shooting primarily with the Olympus OM-D and the Panasonic 12-35mm f/2.8 zoom. I often carried a second lens and flash, plus polarizer and a Joby GorillaPod.
There were times, however, when I needed its help for more mundane tasks. For those trips, I would empty the Sling and hike to the store. Because of its large capacity, I could fit quite a few groceries inside.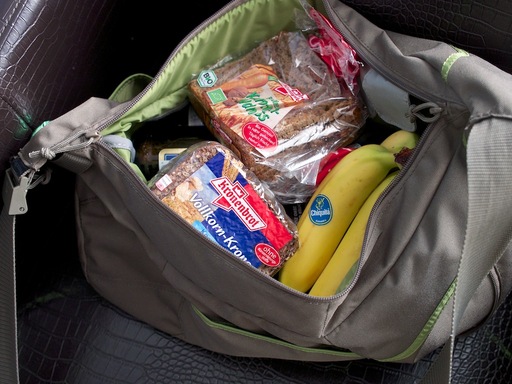 It holds a lot of groceries too...
What really impressed me over the two weeks was how comfortable the bag is to wear. If I'm on a crowed train, climbing into a taxi, or walking for hours, the Passport Sling feels great and hugs my body. And if I need more space, I can unzip the expansion compartment that gives me about 30% more room.
When shooting, I leave the top zipper open so I can quickly get to my camera. I rarely missed a shot using this approach, and I was able to keep my camera out of sight during my adventures.
For urban travelers of any distance, this is a bag to consider. I know it has made my recent tour more enjoyable. The Lowepro Passport Sling II will be available for $65.
---