Very few cameras have WiFi built-in. But you can control your existing DSLR over a wireless network with Triggertrap 1.5.1 and a couple of iOS devices, such as an iPhone.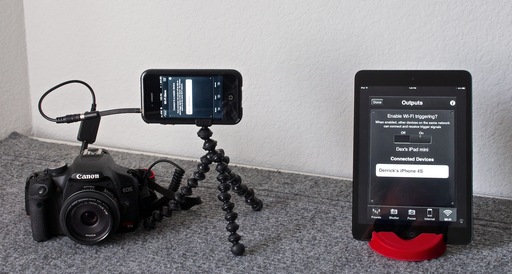 WiFi setup for Canon DSLR using Triggertrap loaded on an iPhone and iPad mini. The iPhone 4S is the "slave," and the iPad mini is the "master."
Triggertrap has been around for a while as an iOS/Android cable release for many popular DSLRs. The app is available for $4.99, and the dongle and cable will cost you an additional $35-$40. You launch the app on your iPhone, connect the cable to your camera, and have a host of controls, such as time lapse, that you can use. I felt that Triggertrap was a good investment before for those who like to experiment with their photography. But now, with the WiFi enhancement, it's even a better value.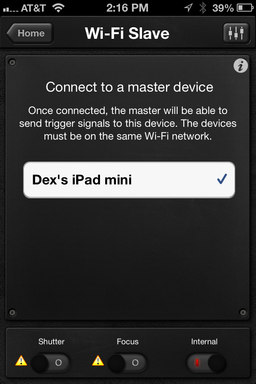 To go wireless, you need two iOS devices. I used my iPhone 4S as the "slave" connected to a Canon DSLR, and the iPad mini as the "master." Both devices have to be on the same wireless network. Once you have the components set up properly, you can control the DSLR wirelessly from any distance that is within network range.
But it gets even better. I used the iPad mini to wirelessly control the camera on the iPhone 4S using just the Triggertrap app without any cables. On the slave unit (iPhone 4S), just turn off the Shutter and Focus switches at the bottom of the interface, and turn on the Internal switch, as shown in the illustration.
---
Top Screenshot: setting up Triggertrap slave on an iPhone to fire the camera in the iPhone via the "Internal" switch. Bottom Screenshot: Previewing the photo in the Outputs menu on the iPhone 4S.
---
Then, go to the Outputs screen by tapping on the button in the upper right corner, and choose "Internal" from the icons at the bottom of the screen. Not only does this provide you with a couple controls, you also have a preview window for composing the shot.
So, for just the price of a $4.99 app, you can wirelessly control an 8 MP iPhone from a relatively large distance. There's lots of room for play and discovery here. If you come up with something cool, please share it in the comments below.
---
The Gift Guide for Photographers features 12 tempting goodies for the photographer in your life. Each item includes a background article about it and a direct link for the best price.