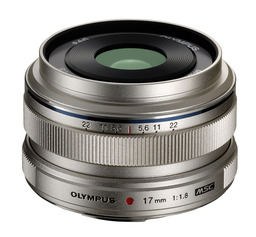 The premium Olympus 17mm f/1.8 prime lens will debut in December for $499 US. This is great news for micro four thirds shooters who want a top quality prime for general low light photography.
The 17mm features the Snapshot Focus mechanism that lets you shift the focusing point to a specific distance. Sliding the focus ring back reveals range markings on the lens barrel, including distance and depth of field scales, which can be used as a guide as you set the focal distance by rotating the ring.
Speaking of the lens barrel, the 17mm is all metal and will have a similar feel as the 12mm f/2.0 prime that sells for $300 more. Add an optical system that features three aspherical lenses, including a Dual Super Aspherical element to correct aberrations, as well as a High Refractive index lens to correct high spherical aberrations, and you have a precise photographic tool.
I'll get my hands on the 17mm when it's released later this year, but I think this is going to be a "must have" lens for many micro four thirds photographers.
---
Take a look at the Olympus Micro Four Thirds Gear Guide for an overview of cameras, lenses, and accessories.