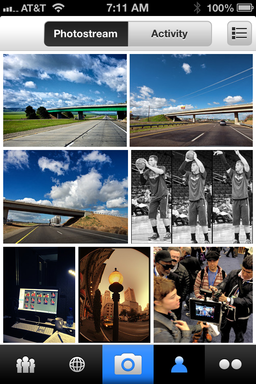 The folks at Flickr are not resting on their recent laurels. They've released Flickr 2.1 for iOS, and it includes a handful of terrific new features, including:
Faster uploading
Easily save photos from your Photostream to your camera roll
Automatically saves your original, pre-filter photos to your camera roll
Quickly tag your contacts in photo comments and description by simply typing @screename
Get notified when your contacts mention you
Higher resolution photo display in lightbox view
Take photos in a snap using your iPhone's volume up button
In my testing, images do process faster during uploading. And I love the fact that I can save shots from my Photo Stream to my Camera Roll, especially since I have more than 1,100 images posted on Flickr. I'm also happy to see the Volume Up "+" button making its way back as a shutter button in our photo apps.
If you haven't tried the new Flickr for iOS app, I highly recommend it. You can download it in the iTunes App Store.
---