Photographer Gavin Seim did many things right when creating his ColorFlow presets for Aperture 3. I like them, not only because they help you produce better images, but also because they help you improve your editing skills in Aperture.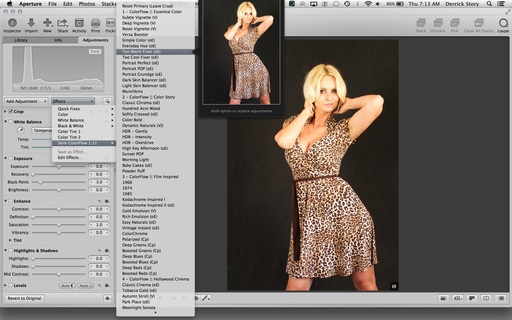 Applying the "Too Warm Fixer" preset to this portrait of Ewelina.
You can purchase the entire set, more than 60 presets in 5 categories, from Gavin's site for $39. It's a download, so within minutes you're using them in the app. (In the Adjustment tab, click on the Effects popup, choose Edit Effects, click on the gear menu and choose Import. Navigate to ColorFlow that you just downloaded. Aperture adds the presets to the app.)
The aspect of ColorFlow that I really like is that you stay in the Aperture environment the entire time you're working. There's no roundtripping to a separate window that adds big TIFF files to your library. You're working with your RAWs just like you would any other image.
The difference is, Gavin is giving you a head start on the editing. When I chose the "Too Warm Fixer" preset for the portrait of Ewelina, ColorFlow left my crop alone, but made changes to the White Balance and Enhance bricks. I can see exactly what it did. And if I want, tweak further using the sliders that I'm already familiar with.
Then, if I want, I might add a Hollywood Cinema effect, such as American Western, and ColorFlow makes adjustments to both Curves, and the Highlights & Shadows bricks. if the effect isn't exactly what I want, I can play from there.
There's nothing over the top here. Many of the effects are subtle, helping you craft your image rather than be hit over the head with it. And if you want more intensity, you can add it yourself.
I think ColorFlow is an excellent investment for your Aperture workflow. Because they are presets, they have low impact on the application itself. It's more like a guided tour for image editing. And I think using ColorFlow will inspire you to fine tune your pictures.
Watch the video that Gavin has embedded on the ColorFlow page, you'll learn a lot about these presets, and gain insights on his approach to photography.
Aperture Tips and Techniques
To learn more about Aperture, check out my Aperture 3.3 Essential Training (2012) on lynda.com. Also, take a look at our Aperture 3 Learning Center. Tons of free content about how to get the most out of Aperture.
Want to Comment on this Post?
You can share your thoughts at the TDS Facebook page, where I'll post this story for discussion.