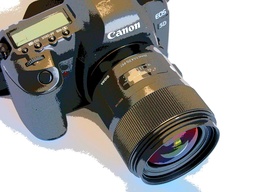 Photographers who shoot Raw often don't realize their camera might have a powerful image processing function that creates Jpeg variations of those Raw files in camera. There are many advantages to this capability.
For mobile shooters, it eliminates the need to capture in Raw + Jpeg. You can shoot in Raw, convert the images you like to Jpeg in-camera, then send those pictures to your iPad or iPhone for sharing. This approach saves space on the memory card and allows the camera to empty the buffer faster.
Creative photographers have lots to play with here too. Most cameras that support Raw processing (such as the Olympus OM-D and Fuji X20) allow you to add effects during conversion. The sample image in this article is a Raw file converted to Jpeg in an Olympus OM-D using the Key Line Art Filter. I still have the original Raw that I can process normally on my Mac at a later date.
The trick is to learn how your camera handles Raw processing. It's usually an option in the Playback menu. On the OM-D, for example, you press the OK button while viewing a photo. An option appears labeled JPEG Edit. Press OK again and the camera will convert the Raw file to Jpeg and add it to your memory card.
The secret with the OM-D is understanding that the file will be processed with the current camera settings. So if you want to apply an Art Filter, for example, then set that up before you process the Raw file. The result will be a Jpeg with the Art Filter settings applied.
On the Fujifilm X20, the options are presented to you when you choose Raw Conversion from the Playback menu. You have options for Film Simulation (my favorite!), color, exposure, noise reduction, and even push/pull processing. Check your camera's manual for its approach to Raw processing.
Once I convert the Raw file to Jpeg, I can send it directly to my iPad via the Toshiba Flash Air Card using Olympus Image Share iOS app that ignores Raw files on the card and shows me only the Jpegs.
Bottom line, if you love to shoot Raw, but sometimes need Jpegs, in-camera Raw processing might be the perfect workflow for you.
---
iPad for Digital Photographers
This is the kind of stuff I write about in iPad for Digital Photographers
-- now available in print, Kindle, and iBooks format.
You can share your thoughts at the TDS Facebook page, where I'll post this story for discussion.