The first shock waves have passed. Yahoo CEO Marissa Mayer has apologized for her statement, "there's really no such thing as professional photographers anymore." Flickr Pro users can continue to renew at the current $25 a year price. And the new look, though not evenly applied throughout the site, is quite attractive.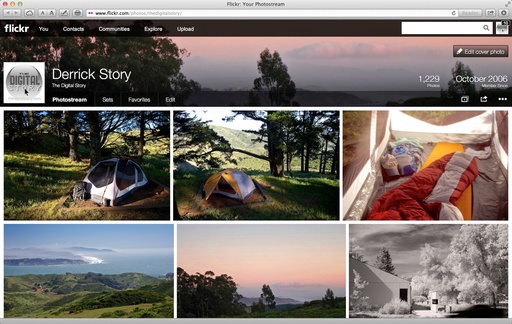 In other words, it's just another week on the Internet. I suspect that over the coming months, we'll see continued refinement of the Flickr redesign. The current look was probably rolled out earlier than planned because of the improvements Google+ and 500px have recently announced.
Meanwhile, those pronouncing the death of Flickr, or its second coming, are both wrong. It will continue to roll along because of its passionate, talented users who care more about photography than Internet grandstanding.
If you don't believe me, just go to flickr.com and click on the Explore tab.
Want to Comment on this Post?
You can share your thoughts at the TDS Facebook page, where I'll post this story for discussion.
---
iPad for Digital Photographers
If you love mobile photography like I do, then you'll enjoy iPad for Digital Photographers
-- now available in print, Kindle, and iBooks versions.