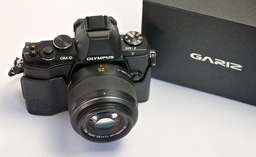 I use the Olympus OM-D two distinctly different ways.
In the studio with the 12-35mm f/2.8 Panasonic zoom, I like the Olympus HLD-6 Battery Holder for a firm grip and for its vertical shutter release controls.
But when I'm traveling light and street shooting with a prime lens, I'm enjoying the Gariz Leather Metal Half Case for Olympus OM-D ($90) that's less bulky than the power grip. The half case also provides good bottom protection for the camera and allows quick access to all of the ports, including the battery.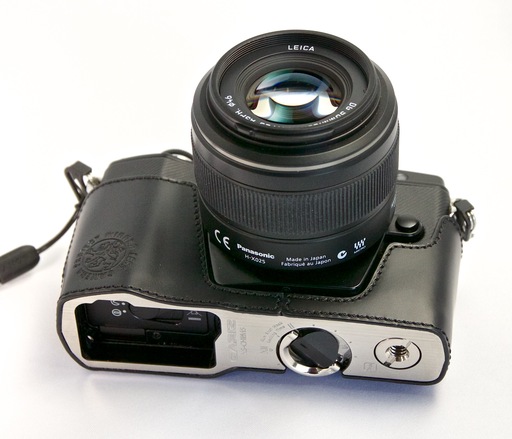 On the left side, there's an opening to allow access to the port door. There's also a tripod socket on the right. It's not centered, but again, can be used with the case on. If you have a Black Rapid strap, you can connect it to the Gariz via the fold out Gun Shot Ring. Gariz also makes sling straps that works with the case.
After some informal testing of taking pictures with and without the half case, I figured out what makes the camera easier to hold with the case on. It's that bit of additional height the Gariz provides. That little bit of extra makes a big difference on how the OM-D sits in my hand.
So, for street shooting and light travel, I'm happy with the Gariz. In the studio and for longer shoots, the power grip is my choice. I love the versatility of this camera. It can transform from a discreet compact to a DSLR replacement in just a matter of seconds.
Thanks to Frederick Van Johnson for showing me the Gariz on his OM-D!
---
iPad for Digital Photographers
If you love mobile photography like I do, then you'll enjoy iPad for Digital Photographers
-- now available in print, Kindle, and iBooks versions.
Want to Comment on this Post?
You can share your thoughts at the TDS Facebook page, where I'll post this story for discussion.