Even though there are more than 50 new features in Lightroom 5, there are three in particular that I like. First, we finally have a true full screen preview mode. Now, when I press the "F" key, I get what I've always wanted.
Second, when using the Spot Removal tool, there's an option at the bottom of the screen called Visualize Spots. By checking the box, Lightroom creates a mask that makes it easy to see any flaws that I might want to remove.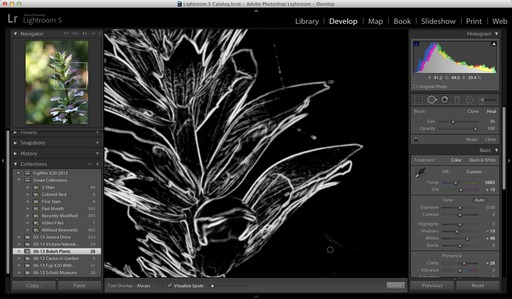 Using "Visualize Spots" I can easily see areas that I might want to remove.
And third, the Upright tool, found in the Lens Corrections box, is terrific. It straightens out those lines making the buildings look less distorted. I've tested it with a series of architecture shots, and it has improved the image 9 out of 10 times. More often than not, using Auto mode for Upright is all you need.
Lightroom 5 is available now for download ($79 for upgrade, $149 for new users) and is part of Adobe Creative Cloud.
Want to Comment on this Post?
You can share your thoughts at the TDS Facebook page, where I'll post this story for discussion.
---
Join me on my Instagram site as I explore the world of mobile photography.