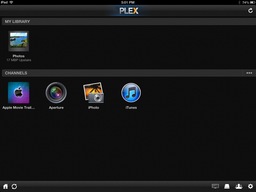 You can browse your entire Aperture library on an iPad, and even grab the photos you need, using the iOS app Plex ($4.99) and the free Plex Media Server for your Mac.
This clever software provides a variety of streaming options for photos, music, and movies. But it can also peer directly into your Aperture or iPhoto library, and serve up organized content on to your iOS device.
The setup for Plex is literally a short series of clicks. You install the iOS app on your iPad. Download and launch the server on your Internet-connected Mac. Then you create an account on myPlex that enables remote access.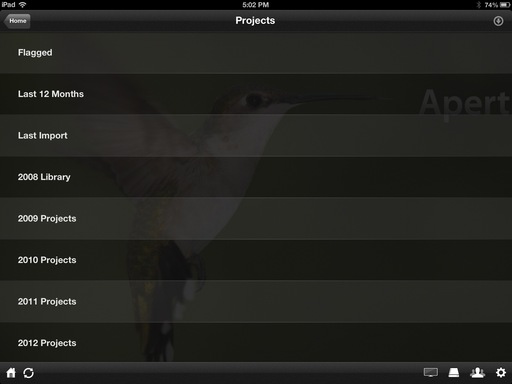 Aperture projects listed on an iPad
If you have Aperture or iPhoto loaded on the computer that's acting as the server, those channels are automatically added to your Plex library. Once enabled, you can browse your Aperture library on your local area network, or even remotely via the Internet.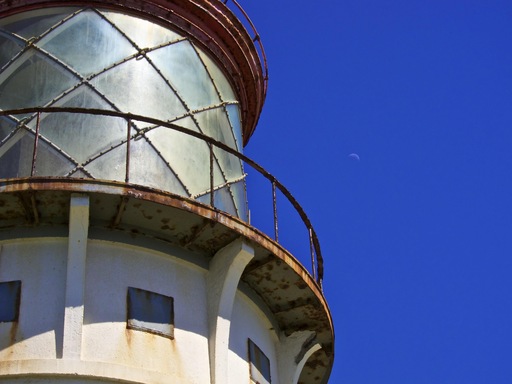 Image captured off a Retina Display iPad via Plex using the system described in the article and applied here. (Click on photo to view full size.)
When you find a picture you want to save to your iPad, simply take a screenshot of it while in full screen mode (press the Home and Power buttons at the same time). Because of the high resolution of the Retina display on an iPad 3 or 4, the captured image will be 2048 x 1536 pixels - more than enough for sharing on Flickr, Facebook, Twitter, and blogs.
Plex is incredibly easy to use and performs quite well. It taps the preview files in your Aperture library. In my case, I have a older MacBook Pro laptop running at my studio with an archive Aperture library on it. If I need an image, let's say from 2010, I can browse the library on my iPad, capture the photo, and share as needed. Via this system, I have access to my Aperture library... anywhere.
Plex + Aperture is quite amazing.
Follow Up Note - Plex posted an update to the iOS app, v.3.2.1, that added a Save button in the upper right corner that allows you to save images from your Aperture library to your Camera Roll.
---
iPad for Digital Photographers
This is the kind of stuff I write about in iPad for Digital Photographers
-- now available in print, Kindle, and iBooks format.
Aperture Tips and Techniques
To learn more about Aperture, check out my Aperture 3.3 Essential Training (2012) on lynda.com. Also, take a look at our Aperture 3 Learning Center. Tons of free content about how to get the most out of Aperture.
Want to Comment on this Post?
You can share your thoughts at the TDS Facebook page, where I'll post this story for discussion.