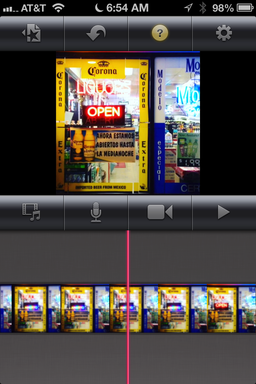 When Instagram announced that it now supports 15-second video clips, I was curious about how this actually worked. The capture part is straight forward. You update your current iOS version to V4.0, tap the video icon in camera mode, hold down the record button, and capture. What happens after that is interesting.
Instagram lets you choose a filter from a new set designed for movies, then publish your video just like you would a still photo. It also saves a copy of the file to your Camera Roll.
---
An Instagram-captured video being edited in iMovie for iOS.
---
That file can be used by any app that has access to the Camera Roll, such as iMovie for iOS. What you're working with is a H.264 .MOV file with AAC audio. The size is 640x640 at 30 fps. The audio is single channel at 44.100 KHz.
This could introduce a whole new style of mobile movie making, beyond simply sharing your clips on Instagram itself. Just like the square format in still photography, this look presents a different view of the world compared to 4:3 or 16:9.
In the meantime, it will be interesting to see what Instagram users create with this new functionality.
Want to Comment on this Post?
You can share your thoughts at the TDS Facebook page, where I'll post this story for discussion.
---
Join me on my Instagram site as I explore the world of mobile photography.