Lightroom 5 has its share of headliner features as well as small improvements. In my Macworld Magazine article, Adobe Photoshop Lightroom 5 presents an impressive and innovative upgrade, I cover the biggies, such as Smart Previews and Upright, as well as my favorite refinements.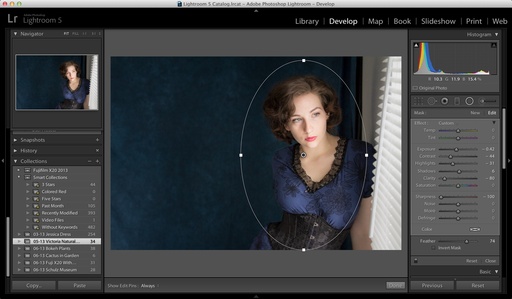 The Radial Gradient Tool in Lightroom 5
My most-liked headliners are: Upright (to help straighten buildings and horizons), Radial Gradient (to draw attention to a specific area of the image), and Smart Previews (lossy DNGs that allow you to work offline with the masters at home). As for refinements, I'm thrilled that Adobe finally incorporated a true full screen view of an image (hit the F key).
As for cons, the Slideshow module continues to lag behind the competition. This surprises me considering that Adobe knows how to make great video editing software. And I think that the Library module needs some attention. Lightroom's photo organization isn't nearly as robust as its image editing ability.
Overall, Lightroom 5 is an excellent upgrade for current Lightroom users. Its lens correction abilities and gradient tools are particularly attractive.
Want to Comment on this Post?
You can share your thoughts at the TDS Facebook page, where I'll post this story for discussion.