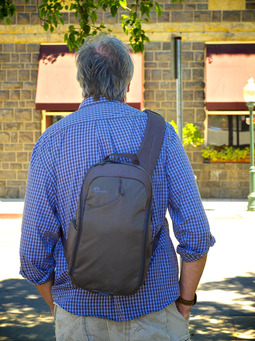 When I'm working in an urban environment, I want to travel light, have fast access to my equipment, and carry a bag that doesn't scream "camera gear." Lately I've been packing my OM-D kit in the Lowepro Transit Sling 250 AW ($99) and feeling great, even during extended shoots.
The Transit sling has fast side-access allowing me to keep the Olympus OM-D tucked away when on the move, then able to grab it quickly when a shot presents itself. I have plenty of room for spare lenses, flash, an extra body, and snacks. There's a dedicated iPad pocket in the back that fits a 10" tablet or iPad mini. If I need a light tripod or monopod, I can use the tuck-away holder on the side of the bag. And just as importantly, I feel like I blend into the environment when working out of the Transit Sling.
Portrait of Alyssa
I used the Olympus OM-D E-M5 with the excellent Panasonic Lumix G X Vario 12-35mm/F2.8 lens to create this portrait of Alyssa in the downtown area of Santa Rosa, CA. With the ISO set to 400, I shot at f/2.8 at 1/800th in Aperture Priority mode, exposure compensation set to -1.3. The focal length was set to 35mm. I then processed the image in Aperture 3.4.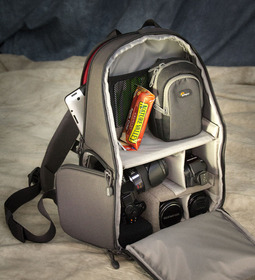 Inside the Transit Sling 250 AW
Inside the Transit Sling I pack the OM-D with grip, Panasonic 12-35mm f/2.8 zoom, Olympus 75mm f/1.8 prime, and the Leica 25mm f/1.4 lens. Also stowed is an Olympus flash, Fujifilm X20 compact camera, filters, cable release, iPad (in the dedicated back pocket) and a snack. In the field, I can upload images directly from the camera to the iPad using a Toshiba FlashAir or Eye-Fi Mobi wireless card.
Regardless if I'm working on location, or processing images on the iPad in a coffee shop, the Tranist Sling 250 protects my gear and doesn't get in the way. I give it a very high nimbleosity rating.
---
iPad for Digital Photographers
If you love mobile photography like I do, then you'll enjoy iPad for Digital Photographers
-- now available in print, Kindle, and iBooks versions.
Want to Comment on this Post?
You can share your thoughts at the TDS Facebook page, where I'll post this story for discussion.