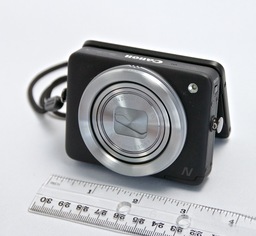 In my recent review of the Canon PowerShot N on TechHive, I conclude with:
"So who is this camera for? I think it's for creative photographers who want a device that helps them produce uninhibited (and sometimes unpredictable) images that they can easily transfer to their mobile devices. Clearly, this isn't a camera for everyone. In the right hands, though, it can breathe new life into everyday imagery. And for that reason alone, it's worth keeping an eye on."
But that doesn't mean the PowerShot N doesn't have its Cons as well as Pros. Here's how it stacks up for me.
PowerShot N Pros and Cons
Pros
8X optical zoom lens
Excellent image quality over a broad ISO range
Tilting screen for creative compositions
Solid movie mode with a dose of creativity
Built-in WiFi with mobile companion app available for free
Digic 5 process for snappy performance
Cons
$299 price tag makes it an investment, not an impulse buy
Low battery warning doesn't provide much lead time
Small size can make it difficult to hold securely
LCD controls most functions, very few buttons
Wi-Fi will disconnect quickly when pictures are not transferring
Typical Comments About the PowerShot N
The most common remark that always surfaces when I write about this camera is that it's too expensive for its specification. I agree that $300 is a lot to spend for a compact camera. But it is a good camera with an excellent lens and WiFi. Maybe the price will come down later this year.
---
iPad for Digital Photographers
If you love mobile photography like I do, then you'll enjoy iPad for Digital Photographers
-- now available in print, Kindle, and iBooks versions.
Want to Comment on this Post?
You can share your thoughts at the TDS Facebook page, where I'll post this story for discussion.