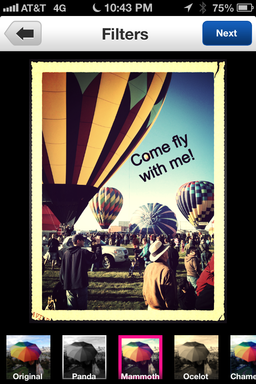 Sharing travel adventures via postcards are as old as vacations themselves. You can keep this tradition alive using Flickr on your mobile device or computer. Its editing application enables you to add frames, type, and effects.
Start with a photo that represents your current activity. If you're using your iPhone, access the Camera Roll via the camera function in Flickr for iOS. Once you select the image, tap on the pencil icon in the upper right corner. Here you can choose a frame and add type. Once you apply that, you can also select a filter.
Upload the image to your Flickr account. I also save a version to my Camera Roll (this is an option in Settings). From either location, I can send my postcard to friends and family.
This process is even easier on your computer. Watch this short movie from my Flickr Essential Training title on lynda.com to see how to use the online photo editor to create postcards.
Adding Text and Frames
Regardless if you use your mobile device or computer, you can create memorabilia from your images that will delight your friends this summer, and for years to come.
---
iPad for Digital Photographers
If you love mobile photography like I do, then you'll enjoy iPad for Digital Photographers
-- now available in print, Kindle, and iBooks versions.
Want to Comment on this Post?
You can share your thoughts at the TDS Facebook page, where I'll post this story for discussion.