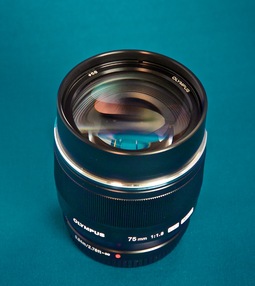 I have lenses that I describe as sharp, dependable, or versatile. But the term I use for the Olympus M.Zuiko Digital ED 75mm f/1.8 lens is amazing. Why? Because in many ways, it defies logic.
When mounted on the OM-D E-M5, the 75mm is both sharp and dreamlike at the same time. When locked down to f/1.8, which is the only aperture I've used regularly with this prime, it lets me create images that have a quality unlike any other lens.
It goes beyond merely throwing the background out of focus (which is no small feat with a micro four thirds camera). It's the unique way that it creates a creamy, almost dreamlike texture, even in mundane settings. I've said before that lenses are to a photographer as brushes are to a painter. Never has that been more true than with this combination.
In the past, for portraits like these, I would have to use my Canon 5D Mark II and the 70-200mm f/2.8 zoom. It's a great rig for sure, but it is over twice the size and weight of the OM-D with the 75mm prime. So for shoots where I need to travel light, but still have the control I want, the micro four thirds tandem is a more nimble option.
When I need the lens to be sharp, all I have to do is focus accurately on what's important, and the 75mm provides excellent detail, contrast, and color. BTW: the manual focus ring is quite nice on the 75mm. I've programmed my f2 button on the OM-D to toggle between manual and autofocus. I've found this particularly handy for sports where I can lock in on a subject faster than the autofocus.
The product highlights are what you'd expect for premium priced glass ($899).
Three ED Elements to Correct Aberrations
Advanced Lens Coating Reduces Reflections
150mm Equivalent in 35mm Format
Micro Four Thirds Mount
Aperture Range: f/1.8-22
Compact (2.7 x 2.5"), Balanced Weight (10.7oz) All Metal Construction
Fast, Quiet Autofocusing Ideal for Video (MSC) and Action Photography
The 75mm doesn't have close-focusing ability, and doesn't include optical image stabilization (the OM-D has stabilization built in to the body). But for portraits and action photography, this prime lens is simply, well, amazing.
Want to Comment on this Post?
You can share your thoughts at the TDS Facebook page, where I'll post this story for discussion.