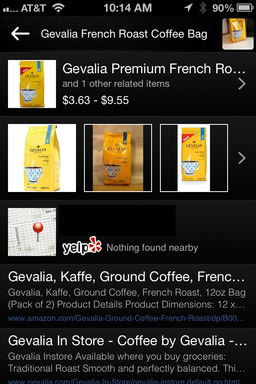 For years I've been telling mobile photographers to take pictures, not notes. You see an item that has useful information, such as a historical placard, take a picture of it for future reference.
The iPhone app, CamFind takes this technique to a new level. Just take a picture of a product, landmark, restaurant sign, QR code, or barcode, and CamFind will search the Web to find you as much information as possible about the item in question.
In my informal testing, the results were both fast and useful... most of the time. For example, I took a picture of a bag of Gevalia french roast coffee. CamFind returned results on general price range and places it could be purchased. I then took a picture of our famous landmark in Santa Rosa, Schulz Museum, and CamFind returned results for Schulz Center for Teaching and Learning (correct), lawn and garden products, and the character from Hogan's Heroes.
All in all, this is a useful, and sometimes entertaining app. In most instances you'll likely get the information you need. And the price is right: free.
---
iPad for Digital Photographers
This is the kind of stuff I write about in iPad for Digital Photographers
-- now available in print, Kindle, and iBooks format.
Want to Comment on this Post?
You can share your thoughts at the TDS Facebook page, where I'll post this story for discussion.