Regardless of which camera I'm using on location, I pull out my iPhone for a finishing shot. Why? Because with the iPhone I also capture the geotags and correct time. I can apply this information to my "regular camera" shots later on in Aperture or iPhoto. This is especially handy if I forgot to change the timestamp on my DSLR while on the road.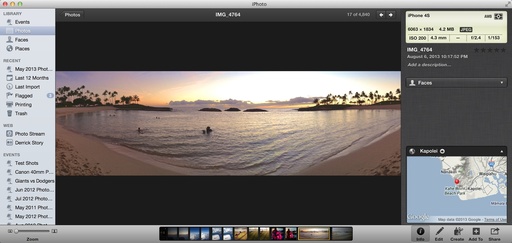 Oahu at Sunset - panorama captured with an iPhone 4S and displayed in iPhoto. Photo by Derrick Story.
To simplify this process, I use Photo Stream to backup all of my iPhone images to iCloud. I've then set up iPhoto on my Mac to import all of the Photo Stream pictures into the iPhoto library for safe keeping. (And thanks to the unified library, I can open all of this in Aperture too.)
When I return home and open up my Mac, everything is there waiting for me... geotags and all.
More Aperture/iPhoto Tips and Techniques
To learn more about using Aperture and iPhoto together, visit my Using iPhoto and Aperture Together on lynda.com. Also, take a look at our Aperture 3 Learning Center. Tons of free content about how to get the most out of Aperture.
Want to Comment on this Post?
You can share your thoughts at the TDS Facebook page, where I'll post this story for discussion.