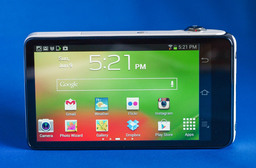 Is it a camera? Is it an Android device? It's both!
In my TechHive review of the Samsung GC110 Android powered camera, I sum my experience with the device by writing:
The Samsung Galaxy GC110 is an ambitious product. The camera takes good pictures -- with a few nits concerning white balance and focusing -- and has an amazing optical zoom. The LCD is beautiful, especially when using the GC110 as an Android device. But in bright light, it's hard to compose photos. And the touchscreen-only approach still isn't as convenient as well-placed buttons and dials. As a camera, it's definitely more urban than country.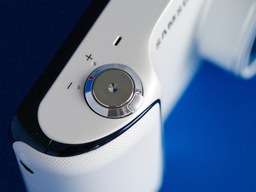 Pros and Cons for Samsung Galaxy Camera
Pros
Impressive 21X optical zoom
WiFi connectivity
8GBs internal storage plus accepts micro SD cards up to 64GBs
Capable Android device
Easy to use HD video mode with real time zooming
3.7 volt Lithium Ion battery holds up well thanks to conservative power management
Compatible with 8 music formats
Includes Bluetooth and GPS
Big, colorful LCD
Surprisingly good camera performance indoors
Cons
Auto white balance performs better indoors than outside
Autofocusing generally good, but can become confused
Difficult to compose shots in bright sunlight
Performance can lag at times
Strict power management results in quick sleep mode
Large size (5.07" wide by 2.79" tall) makes it not really a compact camera
Current $449 price tag puts it in the investment category
I think those who come to love the GC110 will think of it as a multifunctional Android device first and an everyday camera second. It's most useful when WiFi is within reach. If you don't want to tote an iPad or Android tablet, but you want the pretty screen and software capabilities, the Galaxy should be a good choice. And when you do need to take pictures, you'll have a 21X optical zoom, 16MP sensor, and plenty of bells and whistles to help you capture the moment.
The Samsung Galaxy is available for $389 on Amazon
---
PhotoHelpDesk.com is a down-to-earth resource for curious minded photographers. Submit your questions, and we'll post an answer.
Want to Comment on this Post?
You can share your thoughts at the TDS Facebook page, where I'll post this story for discussion.