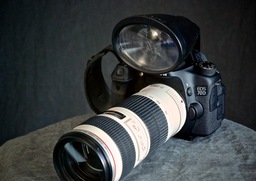 I've seen wildlife photographers use a Fresnel lens to extend the distance of their shoe-mounted flash.
But I haven't seen an accessory that effectively extends the distance of the humble pop-up flash... until now. The Rogue Safari Flash Booster ($34.95) is the model of simplicity, that really works. It's brought to us by the designers at Rogue, who also created the popular FlashBenders.
My quest was to capture a photo of a hummingbird that frequents my garden at the back of the studio. I mounted the Safari on my new Canon 70D, then activated the pop-up flash. After a bit of experimentation, I settled on full power manual flash mode, Aperture Priority exposure (f/14 at 1/60th), and ISO 200. I used the Canon 70-200mm f/4 at 200mm.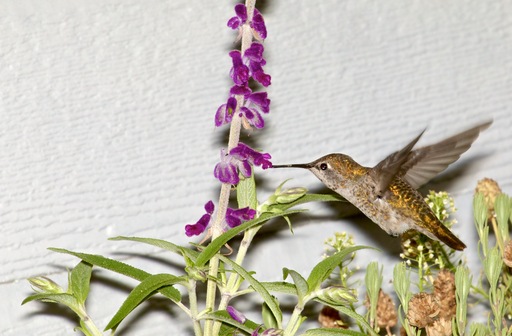 What I found so impressive was the intensity of light output from my humble pop-up flash. The hummingbird was feeding about 12 feet away. I had to stop down to f/14 in order not to overexpose the shot. And this was at ISO 200. I cropped the center part of the image for better impact, but even after cropping, I still have a 6MP image captured from distance.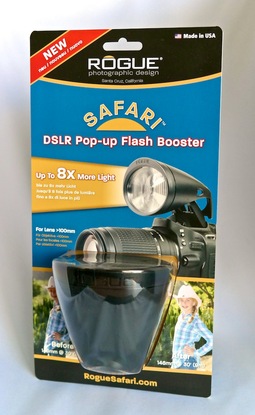 The Safari Flash Booster works best at 100mm or greater. It's designed for both Canon APS-C and Nikon DX DSLRs, and it weighs only 2 ounces. If the pop-up flash isn't centered inside the housing, Rogue includes a 5mm and 8mm spacer to improve alignment. You can use it in TTL flash mode or manual. In my testing, I preferred manual flash mode so I could control the output.
I'm going to continue testing this accessory, including during an upcoming shoot at Safari West African animal preserve in Santa Rosa, CA. But based on my initial results, I have to say that the Rogue Safari Flash Booster is a clever, well-designed accessory that potentially has a variety of applications.
---
Join me on my Instagram site as I explore the world of mobile photography. And now Instagram features 15-second movies too.
Want to Comment on this Post?
You can share your thoughts at the TDS Facebook page, where I'll post this story for discussion.