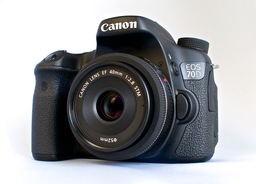 Having carried a Canon EOS 70D with the Canon EF 40mm f/2.8 STM lens for some time now, I agree with the recent DP Review Gold Award for the enthusiast DSLR.
In terms of my "larger" cameras, this is my current favorite. And with the 40mm f/2.8 pancake lens, it's a remarkably compact and versatile camera. I keep it in my Lowepro Urban Reporter 150 with the OM-D.
The 40mm on the 70D is my longer lens and the 17mm on the E-M5 is the wider. Depending on the situation, I grab the camera that has the most appropriate focal length.
The things I really like about the 70D and why it resides in my daily bag include:
The swing-out articulated touchscreen LCD. So versatile!
Built in flash with wireless controller combined with the wireless Canon 270EX II Speedlite Flash makes for a potent on-the-go lighting kit.
Great autofocusing with both the optical viewfinder and via live view.
Terrific low light/high ISO performance.
Built-in WiFi for both camera control and picture transfer.
Accepts my entire catalog of Canon glass.
The enthusiast DSLR lives on. And I, along with DP Review, feel that Canon has created an excellent camera with the 70D.
Want to Comment on this Post?
You can share your thoughts at the TDS Facebook page, where I'll post this story for discussion.
---
PhotoHelpDesk.com is a down-to-earth resource for curious minded photographers. Submit your questions, and we'll post an answer.